Commercial & Industrial Chimney Services
Installation of low-temperature flue systems for commercial and industrial appliances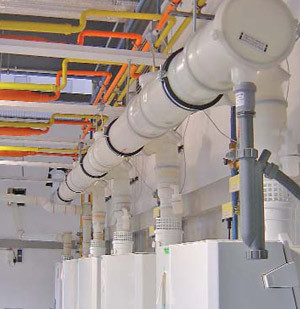 Oil and gas condensing boilers are common in commercial-scale heating systems. These boilers provide a greater level of efficiency, as waste heat from the flue gases is recovered and recycled in the heating of water before it enters the boiler. High efficiency has been taken into greater consideration in recent years, due to changes in building regulations which promote lower emissions.
Billing Chimneys install low-temperature flue systems for commercial and industrial appliances. We recommend the Centrotherm system of lightweight plastic flue components, approved by all major condensing boiler manufacturers. Made of environmentally-friendly polypropylene, this system is versatile and easy to install, with well-fabricated one-piece bends that minimise buildup of condensate. A high pressure resistance means that in certain applications the flue dimensions can be reduced, allowing for space savings.
We can fit flues to individual appliances or design and install a centralised system for you.
Request a Call Back
If you'd like a member of our team to give you a call back to discuss Commercial & Industrial Chimney Services, please just enter your details and we'll be in touch as soon as possible.
This website uses cookies to provide you with the best user experience and site functionality, and provides us with enhanced site analytics. By continuing to view this site without changing your web browser settings, you agree to our use of cookies. To learn more, please view our privacy & cookies policy.