Do I Need a Chimney Inspection?
If you own a property with a chimney, you may ask yourself the question, do I need a chimney inspection? The answer is yes, it's essential that it's kept in good condition and is well maintained.  In this article we explain the reasons why your chimney should be inspected on a regular basis, what happens during the inspection and what to expect from the results.
There are many good reasons to keep your chimney in tiptop condition, the principal one being safety and it's also why you should have a regular chimney inspection. A poorly maintained chimney or flue is not only inefficient but can be structurally unsafe and could cause a fire or leak poisonous gases.
Safety is at the forefront of our work and our services provide for flue condition inspections and flue condition reports.
 Reasons for having a chimney inspection
Safety
Problem solving
Improved performance
Cost effectiveness
Insurance
Safety
Having your chimney swept regularly is necessary to prevent fires caused by things like blockages, debris and build-up of soot and creosote. Once swept it's a great time to have a chimney inspection because the cleaner the chimney, the easier it is to spot any potential issues, some of which are potentially dangerous. Chimneys emit waste gases, a product of burning and one such gas is carbon monoxide which can be deadly. These gases can leak through cracks in the fabric of the chimney, they are odourless and if they seep into a building's rooms, they can cause illness and even death.
Problem Solving
At Billing Chimneys, we often receive calls when a problem arises. There are a range of events that prompt such calls and most often they are easily solved.  These problems might not happen if a regular maintenance scheme is in place for your chimney because potential issues can be spotted early during a chimney inspection. Some examples of the issues that occur include, bad smells and smoke blow back or soot falls.
There are several causes of bad smells emitting from chimneys. Build-up of soot and creosote mixed with moisture, especially during warm weather can cause such odour from a chimney or flue. Even dead animals are known to be found at times. Animal activity can also cause blockages which are reasons for smoke and soot to come back down the chimney and into the room.
Improved Performance
A clear chimney will provide the best draft which in turn is best for efficiency not only in terms of fuel consumption, but also in the optimum operation of any appliances, such as wood burners and Aga-style stoves.
Cost Effectiveness
We've already said that a clear, well-maintained flue provides for optimum fuel efficiency. Chimney inspections will also spot issues that could potentially become a much greater problem and become more expensive to rectify if not found early.
Insurance
If you have a chimney or flue in use it's a good idea to check your home insurance policy. Lack of maintenance could in some cases invalidate any claim against issues caused by the flue.
What happens during a Billing Chimneys' inspection?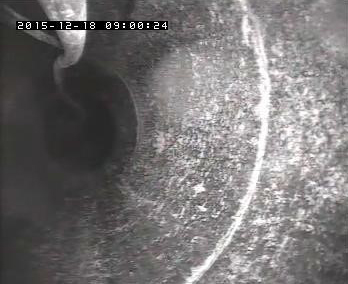 Every chimney is unique, and all our inspections are undertaken using state-of-the art CCTV cameras. You can expect two of Billing's experienced staff to attend and a flue condition inspection will typically take two to three hours. Following the inspection, you will be given a flue inspection report. This will include any recommendations for further work.
The inspection is undertaken from the base of the flue shaft, through the appliance or the fire opening.  Our staff will need space to work in and access to a power point for the technical equipment. We will not need access to the roof unless this is a specific requirement from our customer.
A good inspection will check the structure of the flue, whatever type, for cracks and breaks. Our CCTV cameras can reach into every part of a flue, enabling the operatives to get a clear look at the condition inside. This is far superior to an inspection by torchlight as the camera, lit by LCD lighting, can discover even the smallest of fissures and cracks.
The camera inspection will be recorded to allow a review and to ensure nothing is missed. If during the inspection a blockage or obstruction is discovered our staff will attempt to remove it there and then, that will allow for the inspection to be completed. If it's not possible to clear the blockage at the time of the inspection, we'll note our recommended method to remove the obstruction in our inspection report.
There's no escaping the fact that cleaning a chimney or removing a blockage can be a messy business. Our staff will do everything they can to minimise the mess and will use sheets and covers to protect the room. We are proud of our excellent reputation for the efficiency and cleanliness of our work.
Your chimney or flue is unique to you and we price our inspections based on your requirements. Before the inspection, we will have discussed with you the type of flue, it's location and any issues you're having so we get an idea of what to expect. The important thing is to ensure your chimney is regularly inspected and safe and we're here to help and answer your questions.