Contura 685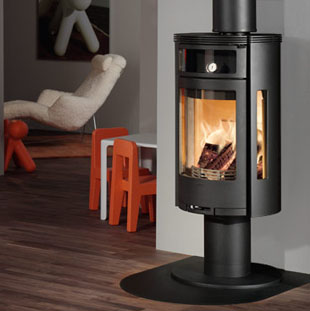 The Contura 685 Style is mounted on a pillar to offer fantastic views of the flames whatever the aspect of the room. It is slightly larger than others pillar stoves in the Contura range and has a baking oven. There is a choice of cast iron, steel plate or soapstone for the top of this stove. It is wood-burning only and offers a 7kW heat output.
Contura 685 Specifications
| | |
| --- | --- |
| Spec | Value |
| Efficiency | 80% |
| Height | 1260 mm |
| Width | 550 mm |
| Depth | 480 mm |
| Weight | 150 Kg |
| Diameter | 150 mm |
| Fuel Type | Wood Only |
Contura 685 Additional Options / Extra's
Colour Options
Billings provide a complete stove installation service, including full supply and fitting of hearths and fire surrounds, and are happy to advise on the most suitable stove for your room size.
Our stove installation services include:
Assistance in making your choice of stove
Supply of the stove
Assessment of the chimney flue
Modifications to the flue (if required)
Complete Installation of the stove
You can find more information on our Wood Burning Stove Installation page or if you have any questions, please call us on 01425 475774 or request a call back by filling in your details below.
Request a Call Back
If you'd like a member of our team to give you a call back to discuss Contura 685, please just enter your details and we'll be in touch as soon as possible.
This website uses cookies to provide you with the best user experience and site functionality, and provides us with enhanced site analytics. By continuing to view this site without changing your web browser settings, you agree to our use of cookies. To learn more, please view our privacy & cookies policy.